BMW Financial Services Lease End Options at Fields BMW
Welcome to the Fields BMW Lease End Department.
Your BMW lease is coming to an end, but the excitement and joy that comes with being behind the wheel of a BMW shouldn't. Below you will find details on the process of your BMW Lease End Return. At Fields BMW in Southern Orlando, we make the Lease End process a smooth and enjoyable experience in the Altamonte Springs, Leesburg, and Clermont areas.

Our dedicated staff look forward to serving your new or pre-owned BMW Lease End needs and we are available to answer any questions you have that may arise in the process, including current mileage usage, vehicle wear and tear, any damage your BMW may have encountered during the extent of your Lease or any repairs you BMW might need, prior to your BMW Lease End. Our team is delighted to provide you with recommendations to consider for your next vehicle, whether you're in the market for a New or a Certified Pre-Owned BMW.

Let Fields BMW make your lease-end process simple.
No matter where you leased your BMW, now that you've experienced The Ultimate Driving Machine, it's time to take it to the next level. The best part is, you may even be able to upgrade your BMW and keep a similar payment, three to six months prior to your Lease End!

Frequently Asked Questions

What do I need to do before my lease is up?
We invite you to bring your BMW to Fields BMW in Winter Park for a complimentary Lease End Pre-Inspection. To arrange a BMW Lease End Pre-Inspection, simply use the contact form on the right of this page or call us at the Fields BMW location nearest you to arrange an inspection.

Fields BMW Winter Park: (888) 693-1538
Fields BMW South Orlando: (888) 338-1348
Why should I get a Courtesy Lease Inspection?
A Fields BMW Courtesy Lease Pre-Inspection helps to take the guesswork out of what costly surprises that may arise in your Final Lease Inspection, so you know what to expect when you turn in your vehicle. If there are unacceptable damages to your BMW, you'll be informed immediately by our BMW Certified team, giving you ample time to have the damages repaired.

What is included in the Fields BMW Courtesy Lease Inspection?
Our BMW Certified Inspectors at Fields BMW will make a determination of what needs to be repaired prior to your Final Lease Inspection and advise you what is considered normal wear and use. There are often misconceptions about what is considered unacceptable damage and at Fields, we help keep you informed. In actuality, most dents and scratches are included as normal wear and use. To make it easy, Fields BMW uses the Ding-O-Meter shown below, which is provided by BMW. You may print out the Ding-O-Meter simply by clicking on the thumbnail below.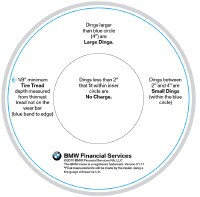 When you bring in your BMW for a Fields BMW Courtesy Lease Pre-Inspection, we will look for the following:
Dents
Dings
Tire Tread Depth
Scratches
Chips
Interior Stains and Damage

Following the guidelines outlined by BMW, we can tell you in certainty what is normal wear and use and what is not, thereby eliminating surprises that may arise during your Final Lease Inspection. Use the contact form on the right, call us or visit us to speak with one of our BMW Leasing Experts for more details.

When should I begin planning for my next BMW?
Typically you'll want to begin planning for your next BMW between 6-9 months prior to your Lease End. You may be able to take advantage of one of our Pull-Ahead Lease Offers in this time frame and exit your Lease early. Contact Fields BMW to learn what specials we currently have available.

What Options are available to me at the end of my BMW Lease?
For your Lease End, you have 3 Options available:

Option 1: Choose your next BMW from our in-stock inventory, order your next BMW built to your own specifications, or choose one of our Certified Pre-Owned BMWs.

Option 2: You may keep your current BMW and have it Certified, right here at Fields BMW, to extend your current factory warranty and to qualify you for special Certified Pre-Owned rates.

Option 3: Turn in your BMW.

I want to have a custom build for my next BMW, can you help with this?
Absolutely! Just take a look at our Online BMW Showroom, or browse through our New Car Inventory online to find your next dream car model. Then, just fill out our contact form to schedule a test drive, give us a call, or come down to the Fields BMW location that is closest to you and our representatives will help with your custom build, or help you find the perfect match to your needs already in stock.

Fields BMW Winter Park: 963 N. Wymore Road, Winter Park, Florida 32789
Fields BMW South Orlando: 9750 South Orange Blossom Trail, Orlando, Florida 32837

I love my current BMW and want to keep it, what next?
At Fields BMW, our BMW Certified Programs make it simple to finance your current vehicle and still maintain the warranties and benefits that come with owning a BMW Certified Pre-Owned vehicle. Once your BMW is part of the Certified Pre-Owned Program, you are ready to enjoy all of the benefits that accompany your BMW's Certification, such as:


The BMW Certified Pre-Owned Protection Plan
Up to 5 years/Unlimited miles of coverage
The BMW Roadside Assistance Program
Special Finance Rates
Plus you will continue to receive all of the exclusive and complimentary amenities from being a member of the Fields Auto Group.
Click here to learn more about the amenities the Fields Matters Loyalty Program provides.
I purchased my BMW with another dealer, can you help me?
Yes and we're delighted you've chosen Fields BMW. We welcome you to the Fields BMW family and look forward to both earning and serving your automotive needs in the future.
I've ordered a new BMW from Fields BMW and it has not arrived yet, may I extend my lease?
Yes, simply have on of our Fields BMW Leasing Experts contact BMW Financial Services, on your behalf, to extend your current lease at the same payment until your new BMW arrives.
What is the penalty for turning in my BMW with excess miles?
For every additional mile over your Lease miles, you will be charged $0.30 per mile for BMW 6-Series, 7-Series, M-Series (except M235i), and i8. For all other models, the charge is $0.25 per mile.
How can I purchase additional miles prior to my Lease End?
You may purchase additional miles at a discounted rate due to the BMW Extra Mileage Purchase Policy. The cost for extra mileage is $0.27 per mile for BMW 6-Series, 7-Series, M-Series (except M235i), and i8 and $0.23 per mile for all other models. You may pay for the additional miles in one lump sum, or, you may spread the mileage purchase over your remaining monthly lease payments. Additional miles purchased are NOT refundable if you do not use them during the course of your Lease.
How do I schedule my Final Lease Inspection?
Your BMW's Final Lease Inspection will be performed free of charge by AutoVIN, a BMW-Approved, third party Lease Inspection company. You may schedule an appointment for your Final Lease Inspection by calling AutoVIN at (877) 428-8684 at your convenience.