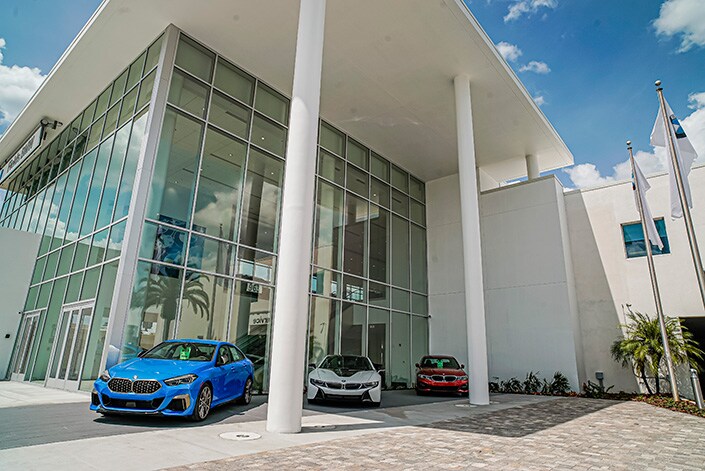 Our New Winter Park Showroom, now open!
 
Fields BMW South Orlando and Fields BMW Winter Park - Central Florida BMW Dealers
Fields BMW Orlando & Winter Park car dealerships offer a great selection of new and pre-owned cars to Florida drivers. Stop by our dealerships located in Orlando and Winter Park to browse our inventory of new BMW models for sale, pre-owned BMW vehicles, and Certified Pre-Owned BMW automobiles.




Fields BMW dealerships have a great selection of new luxury cars and SUVs, including the ever-popular BMW 3 Series, the new BMW X5, and the BMW X1. Check out new BMW SUVs  for sale from our Winter Park locations lineup. We also have an extensive selection of 5 series and 7 series sedans for Florida drivers. Check out new BMW specials near Clermont and lease offers for great deals on a new vehicles.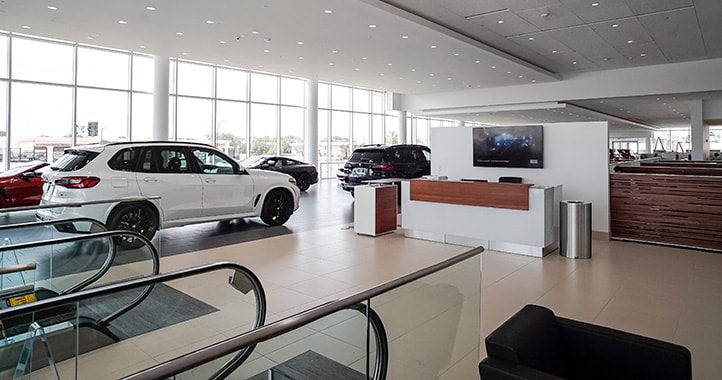 For drivers who are looking for power and a green car, we have all-new and all-electric BMW models available here at both of our Florida BMW dealerships. Whether you come to Fields BMW South Orlando or Fields BMW Winter Park, we are proud to offer the new BMW i3 and the BMW i8!
If you are not in the market for a new BMW with lots of new vehicle safety features, we also have a great selection of pre-owned BMW vehicles for sale, pre-owned cars from other top manufacturers, and Certified Pre-Owned luxury cars at our Florida BMW dealerships. We also have a variety of ongoing pre-owned car specials that will help you save on your next pre-owned auto purchase in Winter Park, FL!
Our services include trusted BMW auto repairs near Altamonte Springs, original OEM auto parts, car loans, BMW leases and Orlando area vehicle financing assistance. Learn about our great BMW financing options for financing your next BMW vehicle.
Call Fields BMW, contact our team online, or come a visit us in Winter Park or Orlando. Our new and pre-owned BMW car dealerships near Orlando are conveniently located at 963 Wymore Road in Winter Park and 9750 South Orange Blossom Trail in Orlando, and we are looking forward to helping you with your automotive needs! Before you visit, take a look at our safe driving tips for driving in Florida.
FIELDS BMW

Certified Center
963 N Wymore Road
Winter Park, FL 32789
Sales: (888) 693-1538
Service & Parts: (888) 856-6317
Sales Dept. Hours:
Monday: 8:30 am - 8:00 pm
Tuesday: 8:30 am - 8:00 pm
Wednesday: 8:30 am - 8:00 pm
Thursday: 8:30 am - 8:00 pm
Friday: 8:30 am - 8:00 pm
Saturday: 9:00 am - 6:00 pm
Sunday: CLOSED
Service Dept. Hours:
Monday: 7:30 am - 6:30 pm
Tuesday: 7:30 am - 6:30 pm
Wednesday: 7:30 am - 6:30 pm
Thursday: 7:30 am - 6:30 pm
Friday: 7:30 am - 6:30 pm
Saturday: 7:30 am - 6:00 pm
Sunday: CLOSED
Parts Dept. Hours:
Monday: 7:30 am - 6:00 pm
Tuesday: 7:30 am - 6:00 pm
Wednesday: 7:30 am - 6:00 pm
Thursday: 7:30 am - 6:00 pm
Friday: 7:30 am - 6:00 pm
Saturday: 8:00 am - 5:00 pm
Sunday: CLOSED
FIELDS BMW

Certified Center
9750 South Orange Blossom Trail
Orlando, FL 32837
Sales: (888) 338-1348
Service & Parts: (888) 341-4651
Sales Dept. Hours:
Monday: 9:00 am - 8:00 pm
Tuesday: 9:00 am - 8:00 pm
Wednesday: 9:00 am - 8:00 pm
Thursday: 9:00 am - 8:00 pm
Friday: 9:00 am - 8:00 pm
Saturday: 9:00 am - 6:00 pm
Sunday: CLOSED
Service & Parts Dept. Hours:
Monday: 7:00 am - 6:00 pm
Tuesday: 7:00 am - 6:00 pm
Wednesday: 7:00 am - 6:00 pm
Thursday: 7:00 am - 6:00 pm
Friday: 7:00 am - 6:00 pm
Saturday: 7:00 am - 6:00 pm
Sunday: CLOSED