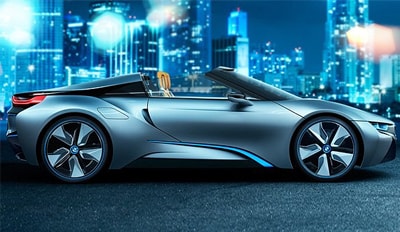 You can almost feel the future blowing through your hair. The i8 Concept Spyder is a high-performance plug-in hybrid that redefines what a convertible should be.
The vehicle is powered by an agile BMW electric motor, innovative battery technology and an intelligent engine management system that switches to a turbocharged internal combustion engine, depending on driving conditions.
Its lightweight design, low center of gravity and 50:50 weight distribution help it reach up to 354 hp and launch from 0 to 62 mph in approximately 5 seconds.* In addition, it boasts an impressive 78 mpg based on its European test cycle.*
Designed with carbon fiber reinforced plastic (CFRP), the BMW i8 Concept Spyder is remarkably lightweight and boasts impressive looks, exceptional efficiency and optimum agility.
The interior of the BMW i8 Concept Spyder is characterized by premium design elements, including the use of renewable materials that reflect BMW i's commitment to sustainability.
[*Specifications shown for Concept Vehicles]
No wonder it took the crown as the 2012 Concept Vehicle of the Year at the
11th annual North American Concept Vehicle of the Year Awards.